Advantech promotes IoT hardware and software solutions with the Edge Intelligence WISE-PaaS core to help business partners and clients connect their industrial chains in order to embrace the trends of IoT, big data, and artificial intelligence. Advantech collaborates with corporate partners to build business ecosystems that further the industrial intelligence objective.
Ethernet Switches
Advantech's managed Ethernet switches allow users to expand their industrial networks quickly and efficiently.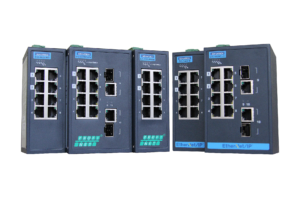 Industrial Computers and Monitors
Class I, Division 2 remote I/Os, like CID1 monitors and CID2 solutions, have proven to be suitable for use in hazardous environments, including chemical and pharmaceutical manufacturing facilities, oil field drilling, pump station monitoring, oil pipeline monitoring, tank storage monitoring, and fuel station management. Data acquisition modules, industrial Ethernet switches, serial device servers, industrial monitors, and embedded automation computers are examples of Class 1, Div 2 remote I/O equipment.