The extensive selection of industrial, precise, and sanitary conveyance solutions from Dorner is created to maximize your productivity and efficiency.
Flexible Chain Conveyors
FlexMove conveyors are available as completed conveyor systems for fast and simple, installation, or as parts for flexibility in design.

• FlexMove
• FlexMove Helix
• FlexMove Sanitary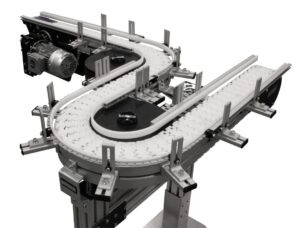 Fabric and Modular Conveyors
Businesses have a variety of distinctive alternatives for moving parts and product thanks to conveyors. These systems aid in boosting productivity, effectiveness, and other factors. Easy customization is available for our modular and fabric belt conveyors to obtain bespoke designs and assembly. They are utilized to move objects on conveyor systems with straight, curved, and LPZ layouts (Z-Frame). We also have a wide range of belting and guiding options to help you find the conveyor you need.

• 1100 Miniature belt conveyors
• 2700 Medium duty fabric belt conveyor
• 3200 belted conveyors
• 3200 precision move conveyors
• 3200 modular belt conveyors
• 2200 belted conveyors
• 2200 precision move conveyors
• 2200 modular belt conveyors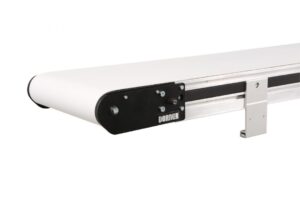 Dorner's Pallet System conveyors simplify product flow and control with features such as a unique pin tracking system, industry compatible pallet sizes and innovative modules.
ERT 250
Precision move pallet system
FlexMove pallet systems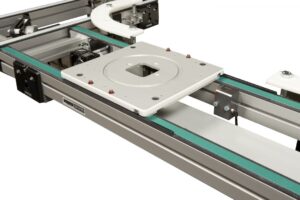 Sanitary, stainless steel conveyors
Conveyors in the 7X series, commonly known as our AquaGard and AquaPruf platforms, raise the bar for food handling systems significantly. The 7X series, designed for quick and efficient sanitation and contamination protection, offers the same Dorner quality and adaptable designs as all our systems.
Aquacard
Aquapruf
Aquapruf ultimate
Aquapruf VBT