The Grace product portfolio encompasses Permanent Electrical Safety Devices (PESDs) and GraceSense IIoT Smart Sensor Devices. With our Panel Interface connectors, electrical safety absence and presence of voltage indicators and predictive maintenance smart sensor devices - you have all the power to make safe, smart, and productive decisions each and every day.
GracePort® Panel Interface Connectors
GracePort® Panel Interface Connectors, also known as Programming Ports, typically mount to the exterior of Industrial Control Panels and provide safe and convenient access to PLCs and other devices through closed doors. GracePorts® reduce risk, enhance safety compliance with NFPA 70e and increase task productivity.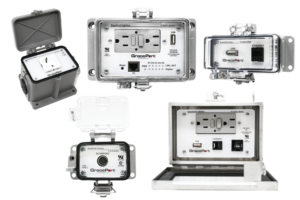 GracePESDS
Data within a network is transferred in different ways. Optical data transmission photoelectric sensors use the "air" medium to transfer data invisibly, contact-free and free from wear over a distance of up to 300 m. This is a leading technology in plant engineering and combines efficiency with cost effectiveness.
Safe-Test Point
Voltage Test Station
Voltage Indicator PESDs
Medium Voltage Indicator PESD
Voltage Portal PESDs
Combination Unit PESDs
PESD Accessories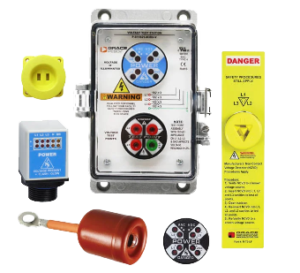 GraceSense
Our suite of smart devices provide advanced analytics with deep insights about machine health to prevent unplanned downtime. Wireless condition monitoring solution capable of providing real-time, sensor-based insights to almost any industrial application. Advanced analytics provide asset managers with deep insights to machine health to effectively prioritize resources and maintenance spend. Improve overall plant reliability, safety, and maintenance metrics by remotely monitoring asset health.