GOT2000 Series HMI
The GOT2000 Series HMI provides a range of models to fit a variety of performance and screen size requirements. All models provide advanced features that improve operator efficiency and performance. Top performance models include gesture screen operation and options for multimedia, network, and I/O connectivity. Mid-range HMI model with a stylish external appearance, flat display surface, IP67F protection rating (when used with environmental protection sheet). Compact type HMIs with small screen size and TFT monochrome display fit a variety of industries and applications.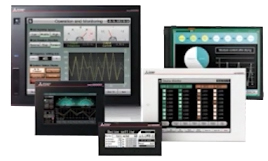 GOT Simple Series
The GOT Simple Series provides an operator interface for systems that require cost-effective performance. The GS Series' built-in functionality provides a platform that enhances other Mitsubishi Electric components in the system with monitor tools, backup/restore of programs, and data transfer functions. With high level functionality for cost sensitive applications, GOT Simple includes; Ethernet, SD card, USB device, RS-232 and RS422/485 communication ports.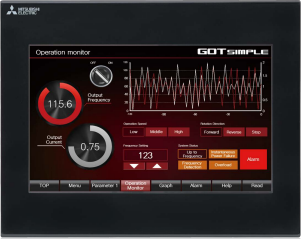 GT SoftGOT
GT SoftGOT enables a personal computer or panel computer to be used as an HMI. Standard GOT2000 features are available, along with connectivity to Mitsubishi Electric PLCs to provide a flexible visualization option.

MELSOFT GT Works3 Software Suite
The MELSOFT GT Works3 Software Suite provides an intuitive and efficient screen design environment for GOT2000 and GOT1000 HMIs. Innovative features such as template screens enable quick design of attractive screens that provide a professional portal into machines. This intuitive design environment provides host of attributes and graphical elements needed to quickly and easily develop visualization projects.