MELSEC iQ-F Series
Next generation MELSEC iQ-F Series, has enhanced high speed bus, expanded built-in functions, advanced SSCNET III/H support, and improved engineering environment with parameter settings in GX Works3 engineering software. From standalone use to networked system application, the FX5U and FX5UC controllers enable faster decision making with access to real time data and improved machine accuracy and throughput.
iQ-R Series
The iQ-R Series is a full featured control platform with fast processing speeds, network and module synchronization, and multi-discipline control. A multitude of CPU and I/O module options make it a flexible solution for a wide variety of applications. The iQ-R boasts a high speed system bus for synchronized data communications between multiple CPUs. This improves performance and accuracy, especially for high speed motion control applications. CC-Link IE Field provides deterministic performance over Industrial Ethernet ensuring synchronization between nodes.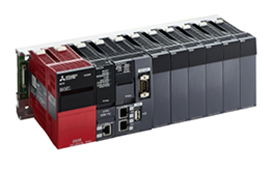 Q Series
The Q Series offers a broad spectrum of automation capabilities from basic sequence control to process/redundant, motion and PC-based control functions. Flexible and expandable, you can mix and match standard Q Series modules to create a system that addresses the functions you need. Whether it is a small stand-alone machine or entire plants in a variety of industries, this controller line can help you minimize operation cycles, improve performance, and maximize equipment uptime.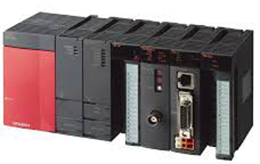 MELSEC-F Series PLC
The MELSEC-F Series PLC provides a compact control solution with flexible options for system configuration. Power supply, CPU, and I/O are all included in a single unit, providing basic functionality that can then be supplemented with the wide variety of expansion options for I/O, analog, positioning, and communications.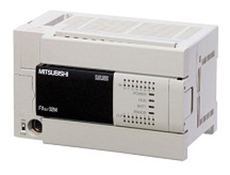 GX Works3
GX Works3 is the programming and configuration software for iQ-F and iQ-R controllers. GX Works2 is the programming and configuration software for FX, L, and Q Series controllers. Following the goal of maximum efficiency, GX Works2 & GX Works3 conform to IEC61131-3 standards, allowing developers to mix and match between five different programming languages and save parts of projects in libraries for use within future applications.