MR-J5 Servo Products
MR-J5 Servo Products set the standard for servo with cutting-edge technology, industry leading performance, and advanced servo features allow users to unlock unused potential in their machines and factories. Available in 200V up to 3.5 kW (more capacities available soon), MR-J5 offers Industry Leading Performance, predictive maintenance capabilities, and CC-Link IE TSN connectivity.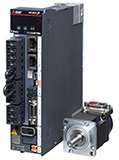 MR-J4
MR-J4 family of products leverages cutting edge technology to provide a high functionality, high performance solution with the most flexible amplifier in the Mitsubishi Electric lineup. MR-J4 Servo Amplifiers are available as 100/200/400VAC up to 55kW or 48/24VDC up to 30W. MR-J4 amplifiers provide high speed, high accuracy solutions, and offer true one-touch tuning in single and multi-axis formats.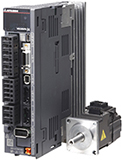 MR-JE
MR-JE family of products leverages advanced functionality such as true one-touch auto-tuning, vibration suppression, and machine diagnosis functionality in an easy-to-use servo solution. The MR-JE is a flexible and reliable servo solution designed to make startup and adjustment simple with advanced ease of use functionality.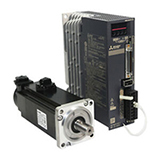 MR-JN
MR-JN family of products are easy-to-use, compact servo amplifiers that feature simple operation functions such as true one-touch tuning, vibration suppression, and include two built-in programming options for easy commissioning. MR-JN 100/200VAC Servo Amplifiers are available in up to 400W and are compatible with pulse train interfaces.