FR-A800 Series
The FR-A800 Series delivers performance, control and accuracy with the latest in AC motor control technology. The FR-A800 series offers a host of embedded functions and algorithms that enable seamless control of both traditional AC induction and permanent magnet motors. Using Real sensorless vector (RSV), magnetic flux vector and vector control users can quickly optimize motor performance based on any requirement.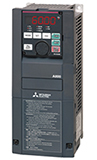 FR-A800 PLUS Series
The new FR-A800 PLUS Series inverters take the outstanding performance and functionality of the standard FR-A800 series VFD combined with special firmware to make a drive dedicated to specific industries and applications such as Cranes, Winding/Unwinding applications and Mining.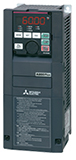 FR-F800 Series
The FR-F800 Series is a pump and fan control VFD optimized for maximum energy saving. Equally at home in an industrial environment or as part of an integrated HVAC system, FR-F800 can also be used as a cost-effective drive for controlling other types of lighter duty constant torque loads. Optimum excitation control ensures that the energy-saving effects are realized during constant torque as well as during the motor's acceleration/deceleration operations.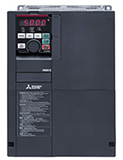 FR-E800 Series
Available in models up to 10HP, the FR-E800 Series, with safety functionality meeting IEC 61508 standards, supports various networks such as CC-Link IE TSN, a next-generation open industrial network, and make manufacturing smarter in various fields by integrating the world's first corrosive gas environment detection circuit and the industry's first AI-based diagnostic functions.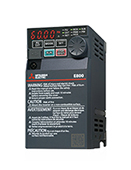 FR-D700
FR-D700 is Mitsubishi Electric's class-leading range of micro drives. Suitable for a wide variety of general purpose motor speed control applications, the FR-D700 was built from the ground up using custom components and has earned an enviable reputation for durability and dependability in adverse environments. This highly compact design offers a reduced installation footprint and a 5 Year Warranty.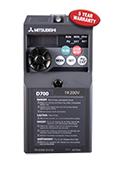 FR-XC Series Multi-Functional Regenerative Converter
The FR-XC Series Multi-Functional Regenerative Converter supports harmonic suppression and power supply regeneration with one unit and can be combined with the optional FR-XCB or FR-XCL dedicated reactor to enhance the regeneration functions best suited for the application.