Phoenix Contact solutions are used wherever processes need to run automatically. This can be in industrial production facilities, in the field of renewable energy, in infrastructure, or for complex device connections. Our products are used wherever power or data flows are connected, distributed, and controlled. Your benefits go beyond the pure function: Our products help our partners to develop sustainable applications with more efficient processes and reduced costs.
PLCs (Controllers) and I/Os
Find the appropriate PLCs (controllers) and I/Os with IP20 and IP65/IP67 degrees of protection, whether as a system or as a remote I/O station for a wide range of different Ethernet networks. Program in IEC 61131-3 or high-level languages, and ensure your system is secure for the future. For example, with PLCnext Technology you can already implement the latest trends like artificial intelligence or transform sustainable solutions in the solar industry into smart solutions.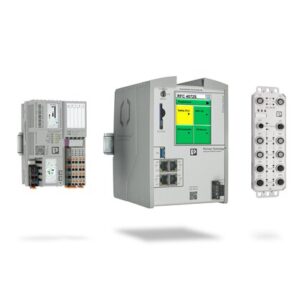 HMI panels and industrial PCs
Operate and monitor your system states efficiently with our Human Machine Interfaces (HMIs) and industrial PCs (IPCs). Benefit from maximum scalability for the operating concept of your automation solution. Perform demanding control and networking tasks in a straightforward manner with our intelligent industrial PCs. At the same time, the sophisticated visualization software supports fast and safe intervention in machine processes.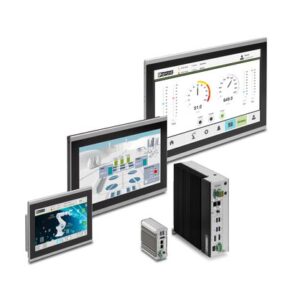 Power supply units
Supply your application reliably with our power supplies. Choose the ideal power supply that meets your needs from our wide range of different product families. The DIN rail power supply units differ with regard to their design, power, and functionality. They have been optimally tailored to the requirements of various industries, including the automotive industry, machine building, process technology, and shipbuilding.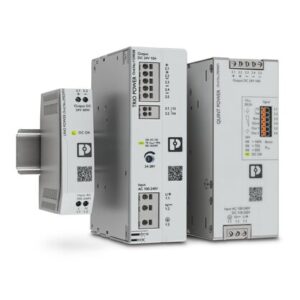 Industrial communication – From fieldbus through to Industrial Ethernet
The aim of industrial communication is the reliable transmission of data from the field through to the control level. Consistent solutions with Industrial Ethernet, state-of-the-art wireless technologies, and cybersecurity increase the availability and security of the networked systems here. Network protocols and fieldbus systems such as PROFINET, OPC UA, PROFIBUS and INTERBUS ensure efficient communication.