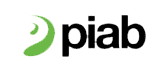 Piab creates cutting-edge vacuum solutions that enhance the productivity, energy efficiency, and working conditions of vacuum users worldwide. Piab designs and produces a full line of vacuum pumps, vacuum accessories, vacuum conveyors, and suction cups for various automated material handling and industrial automation operations. The company is a trusted partner to many of the major manufacturers in the world.
Suction Cups
One lifting method that has various applications is the use of suction cups. For instance, you are able to pick up electronic components, open bags, handle board materials or concrete slabs, name items, and hold them. But the criteria for various applications varies. Piab has one of the broadest selections of suction cups on the market so that there is a suitable option for every application. Please feel free to discuss your needs with us. Whatever your demands may be, we are your partner.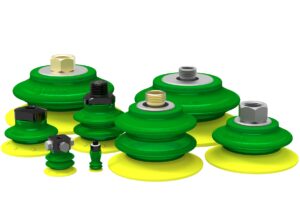 Vacuum Pumps
Vacuum pumps and generators made by Piab are primarily based on the COAX® patent technology. A cutting-edge method for producing vacuum using compressed air is COAX®. A versatile, modular, and effective vacuum system can be created using COAX® cartridges, which are smaller, more effective, and more dependable than traditional vacuum ejectors thanks to Piab's multistage technology. With three times more vacuum flow than conventional systems, a vacuum system based on COAX® technology enables you to enhance speed with good dependability while consuming less energy.
End of Arm Tooling
Robotic end-effector tools, ergonomic tools, and fixture tools for use on many sorts of automation equipment are designed using the EOAT and gripper systems. The tooling consists of swivel arm assemblies, grippers with a variety of different "function" attachments, and connecting pieces for welded frames or extruded profiles. The most recent COAX® technology is used in the vacuum ejector that comes with several function attachments. Both square and round EOAT are available from Piab since they each have benefits. Our components are modular and adaptable so that they may be combined to create a specific tool, which increases flexibility. With our extensive experience, we can also offer custom solutions for a range of applications in the food, plastics, and automotive industries.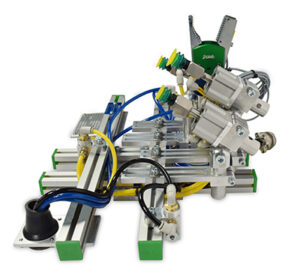 Kenos Foam Grippers
Leading manufacturer of big area vacuum grippers is Kenos®. It is intended for usage in a variety of industries, such as packaging, wood, food, etc. The product group is an adaptable way to handle and manipulate a variety of items with various sizes, shapes, and densities. The majority of grasping systems are capable of either integrated vacuum generating or independent vacuum generation (Pump or Side channel blower). The integrated vacuum generator uses the most energy-efficient ejector technology on the market, the modular multi-stage COAX®. If more ejectors are needed, they can easily be added even after the installation. The mat for the KVG gripping system is made of technical foam (available in FDA-approved mat form), and it has varying thickness and pitch holes. Suction cups in the sizes 35–60 mm from the DURAFLEX® or Value Line® series can also be used with the KVG120C.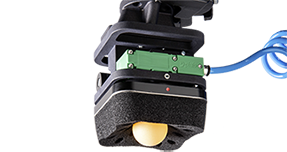 Vaculex Ergonomic Lift Assist
There are ergonomic handling options that can lift practically every type of object, including packages, luggage, sacks/bags, boards, glass, kegs/barrels, bottles, food, stone, windows, etc. It is available in a variety of number of combinations, depending on its purpose. You can raise nearly anything using conventional or specially manufactured suction feet and their high-quality suction cups. The application's productivity will grow as a result of being user-friendly, which has been shown to lower strain injuries, and preserving its commitment to high quality.