Daman Products is primarily engaged in the design and manufacture of hydraulic valve manifolds and related products. Daman has expanded our custom capabilities in the manifold market as a single-source, full-range manifold supplier with the recent addition of a high-precision horizontal machine center, one of only eight in the country.
Standard Manifolds
Manifolds, subplates, adapters, and cover plates are all available from Daman Products and adhere to all NFPA and ISO regulations. More than 2 million parts, with valve patterns ranging from ISO 02 to ISO 10, are available in our Standard Manifold Products Catalog to make it easier to assemble parallel or series circuit systems.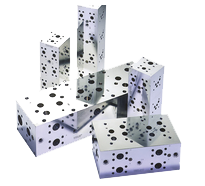 Custom Manifolds
More than two million items are available in our Standard Product Catalog. However, we are aware that many clients have systems with particular fluid power requirements that call for specialized solutions. For hydraulic and pneumatic manifolds composed of ductile iron, aluminum, stainless steel, and brass, we provide custom design and manufacturing services. We will compile the necessary data into a design for an effective, highly functioning product that satisfies your requirements for duplicated or prototype manifold solutions, whether you have a computer-generated circuit and bill of materials, a freehand schematic, or a building sketch. Every week, we process more than 140 Custom Manifold quotes. 70% of our total output is made up of custom manifolds.