FasTest is a dedicated manufacturer of advanced engineered Sealing Connection Tools - or Connectors - for product testing, fluid transfer, and other processing applications.
ICON™
ICON™ is an process automation enabling technology engineered to enhance and maximize our customer's testing process. Integrating sensing and real-time data output into FasTest's industry-leading connection tools, ICON™ puts the power in the hands of users – or robots – to run smarter, safer, and faster tests. Improve testing quality and lower manufacturing costs with ICON™.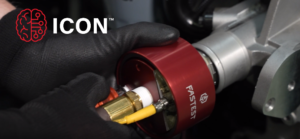 Connection Tools for Every Thread, Tube, Hose, and More.
Hand operated connectors
Pneumatic operated connectors